"There never will be anything more interesting than that American Civil War."
Gertrude Stein
American writer, expatriate, and mentor to Ernest Hemingway, Gertrude Stein expressed her opinion about the American Civil War early in the twentieth-century.  Now, over a century and a half after the War's conclusion, Robert Plumb has written two books that focus on individual lives that affected and were affected by this devastating war: a Union soldier who fought in most of the key battles where the Army of the Potomac played a key role 1862 to 1865; and five women who, while not soldiers, made important contributions to the Union cause. Now these six personal stories bring a fresh perspective to a war that threatened to permanently tear the young American Republic apart.
Plumb's works look at how these individuals were involved in the Civil War and the way their strength of character guided them throughout the conflict.  Exploring these individual lives and their contributions helps us better understand the war from a personal perspective.  As Civil War historian and President Emerita of Harvard University Drew Gilpin Faust has written: "War cannot be understood or communicated as a grand panorama.  It is real only in the context of individual lives and deaths."  (Republic of Suffering.) The Better Angels and Your Brother in Arms open doors for readers to see the American Civil War through the eyes of some of its most compelling participants.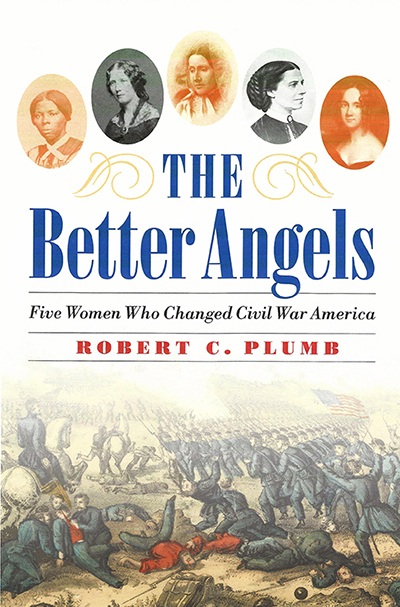 The Better Angels: Five Women Who Changed Civil War America
Released in 2020; second edition in 2022
In this collective biography, author Plumb traces the contributions of Harriet Tubman, Harriet Beecher Stowe, Julia Ward Howe, Clara Barton and Sarah Josepha Hale to analyze how their experiences shaped their responses to the challenges, disappointments and joys they encountered on their missions.  Just prior to, during and after the American Civil War, these women achieved remarkable accomplishments and enduring legacies.
Your Brother in Arms: A Union Soldier's Odyssey
Released in 2011; second edition in 2013
George P. McClelland, through his letters to family, shares the scenes he witnessed as an infantryman participating in battles from Fredericksburg to Petersburg during his service in the Army of the Potomac 1862 to 1865.  Written from the battlefield and the infirmary, McClelland's accounts describe the efforts of a common soldier who performed uncommon service for his country in its time of great need.
Available Wherever Books Are Sold in Stores and On-line